Travels
What to do in Santorini: Santorini places of interest
What to do in Santorini? What are the places of interest to visit on the island?
Santorini is an island in the Cyclades characterized by its villages at the top of the cliffs, its white houses, its sunsets and its blue domes.After spending 3 days on the island of Santorini I can give you some good advice: Santorini Places of Interest, What to do in Santorini? Where to stay? What are the most beautiful beaches? How do I get to Santorini? How to get around the island? Where to go out in Santorini?
Santorini Guide
Santorini History
The island was partly destroyed by a volcanic eruption around 1627 BC.
In 1967, archaeologists discovered an ancient town: the village of Akrotiri, almost completely intact and covered by ashes.
Santorini's main economic activities are tourism and sand exports.
How many days to stay in Santorini?
We visited Santorini in 3 days, a good time to discover the island which is not very big but which has a lot to do.
Where to stay in Santorini?
It depends on what you are looking for.
If you want to stay close to the beaches of the island of Santorini you can choose Kamari or Perissa. These places offer equipped beaches, tavernas and good nightlife, but this is of no particular interest if you are looking for the typical small villages overlooking the cliffs.
If you are looking for white houses and breathtaking sunsets stay in Fira, Imerovigli or Oia. These villages are full of small cafes, shops and magnificent views.
Oia is arguably the most expensive and touristic.
We chose the city of Fira to find a good balance between price, central position, animation and charm. 
Where to sleep in Fira?
We stayed at Stella Apartments
They offer good value for money. The apartments are in Firostefani a 5-minute walk from Fira.
Prices are very interesting: 45 Euros a night (the best we found in Fira), hearty breakfast is included and a shuttle service to/from the airport or port is provided by the owner. 
Where to sleep in Oia?
Although we have not slept in Oia, I can recommend a hotel at affordable prices, advised by many travelers:
Just one kilometre from the centre of Oia, you can enjoy an exceptional view of the Aegean Sea, a tranquil setting where you can relax with ease. Breakfast is included in the prices (about 75 Euros per room). This hotel is ideal for a romantic trip.
What to do in Santorini: places of interest



Fira♥♥
Fira is the main city of the Santorini Archipelago. You will find the beautiful white houses and domes with blue cupules. The city offers lots of shops and restaurants.
What to do in Fira
Walking through the Old Town
Drin

k the aperitif at sunset in one of the bars facing the Caldeira

Get off at the old port and go back to the donkeys, not to mention a good bottle of water and sunscreen

Walk from Fira to Imerovi

gli ♥♥♥

: this beautiful walk in the middle of the white houses will take you from Fira to Imerovigli via Firostefani. The three villages overlook the sea and offer you an unforgettable spectacle
Oia ♥♥♥
A beautiful village, 11 km from Fira, Oia is probably the most popular village on the Greek island especially for its sunset which gathers thousands of tourists every day! The blue and white chapels are numerous and the colours at sunset are beautiful.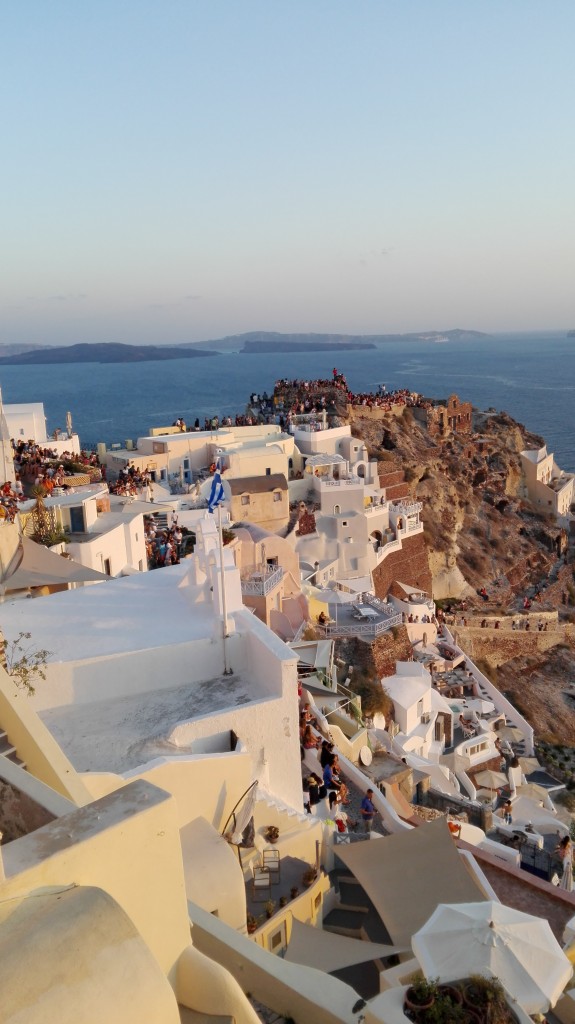 ♥ Megalohori
This small village in the land much quieter than its neighbors is worth a visit. You can pause on one of the terraces of the central square, visit the Esodion church, and admire its calendar containing 365 miniature saints. In Magalohori you can buy Santorini wine from Boutari or Santos wine. 
♥♥ Pyrgos
Pyrgos is the highest point on the island of Santorini. It is a charming and picturesque place built by the Venetians in the Middle Ages. 
After a not too arduous climb in the middle of the colorful houses you will arrive at the ruins of the old Castle to enjoy a stunning view of the island.
Emporio or Emporeio ♥♥
Emporio is one of the oldest cities on the island of Santorini.
This city away from the crowds of tourists is located about 12 km from Fira. You will be seduced by this village that has remained very authentic.
At the entrance to the village you will come across two churches, continuing through the labyrinth of picturesque alleys, you will finally arrive at the fortress. If you are looking for a small area to eat, you will find a tavern right in front of the main church. The hits are delicious!  
Red beach ♥
The most famous beach on the island with its contrasts of red and blue. Victim of his success in July and August, in mid-September it was relatively quiet. Not the most beautiful beaches in Greece but enough to spend a pleasant afternoon. Before arriving at the Red beach you will have to walk 15 minutes, without too much difficulty. You will have a beautiful top view for your souvenir photos.
Pure eat at the red beach you will find some walkers who sell fresh fruit, drinks and some sandwiches. 
How to get around the island of Santorini?
Every day, buses connect the different places of interest.
Prices vary, but count about 2 Euros per ride.
You can also rent a scooter, car or quad bike at attractive prices. 
We rented our scooter in Fira, at Tony's (advised by the backpacker guide) at 25 Euros a day. 
Santorini Beaches
Santorini is not the best island for beaches as they are rocky with sometimes black sand.
Kamari and Perissa: two famous black sand beaches.
Monolithos, Vlichada or Agios Georgios.
For the dive, go to Amoudi.
Where to go out in Santorini?
The majority of the bars are located in Fira, Perissa and Kamari.
Where to shop in Santorini?
In the villages of Fira and Oia you will find many different shops: ceramics, jewelry, cosmetics but also clothes and of course souvenirs for all tastes.
How do I get to Santorini?
The port of Santorini from where the ferries depart is located in Athinio, 11 km from Fira. It is located at the bottom of the cliffs and can be reached by a winding road. 
Santorini is connected with the majority of other islands
Santorini airport provides domestic and international flights.
We opted for a low coast flight Paris Santorini direct from Paris Orly with Transavia.
I advise you to use the site: Momondo FR to compare flights but also hotels and rental cars. 
Santorini Tourist Office
Tourist Office (Fira) 27111 I
nternational code: 0030
Police (Fira): 2264
9 Taxi: 2255
5 Post Office: 22238
Time difference Greece France: 1 hour in Greece
I hope this reading has been helpful to you in knowing what to do in Santorini.
Don't hesitate to react in the comments to give your opinion on the article and provide additional information to improve it.
---
You can also discover the other sections of the site, in which I write articles on topics that I am deeply passionate about: education, well-being, environment, travel.
I like to deal with issues that I think are important in our society. 
Based on qualitative and quantitative information, I hope to be able to bring real value to the analysis of the subject.
---