In this article, I will give you the best things to do in Jersey: what to do in Jersey, the must-sees, which hotel to choose, the weather, how to get to the island.
Visit Jersey: to see and do in Jersey

I was looking for a destination to practice my English even though I had only 4 days of vacation to escape.  
A bit by chance looking at Google maps I discovered the Channel Islands. So I decided to go and visit the island of Jersey. 
How to get to Jersey
Ferry to Jersey Island
You can book a ferry from Saint-Malo at very affordable prices: I paid 73 Euros A/R, but I think you can get better prices off-season or booking a little in advance.
Website: condorferries.fr
Jersey Airport
Currently the only flights available are from the UK. For more information you can visit the official website: Jersey Airport
Where to sleep in Jersey



I offer two hotels, one for the small budget but with excellent value for money and the second for those who can afford to have fun. It's up to you. 
You should know that Jersey is a pretty expensive island, but you can find good deals by looking good!
I searched and searched and I finally booked in accommodation at a very good value for money:
Jersey Accommodation and Activity Centre
At its core it is an activity centre for young people but it also welcomes families, couples and independent travellers.  
You have dormitories as well as single, double, triple rooms, etc.
The rates are very interesting, the best on the island (according to my modest research):
For 3 nights I spent 96.00 euros (so 130 Euros or -): so 40 euros a night Not to expect Buckingham Palace but it's clean, there's free wifi, breakfast is understood and very plentiful, the environment is very pretty and it is placed in one of the prettiest places on the island: Saint Martin (next to the castle of Mont-Pride at the port of Gorey)
If you have the budget to please you, but with a very good value for money, I recommend:
Hotel La Haule Mano
This property is a 1 minute walk from the beach on the south coast of Jersey Island.The village of Saint-Aubin is just a 5-minute walk away.
Culture Jersey
Jersey offers a nice mix of English and French: sure the island's official language is English, the currency is the Sterlin Book and you can enjoy the English Breakfast. However the French culture is very present, you will find a lot of French tourists, some dishes made in France and everything is translated into both languages.
Best things to do in Jersey
Lecq's Strike Ride at Devil's Hole
The walk starts at Lecq Strike, a beautiful beach surrounded by cliffs and continues on a coastal path at the edge of the cliffs that leads to Devil's Hole, a 30 m deep chasm. A beautiful ride!
At the end of your walk you will meet the Devil's Statue;-)
The view at the finish is beautiful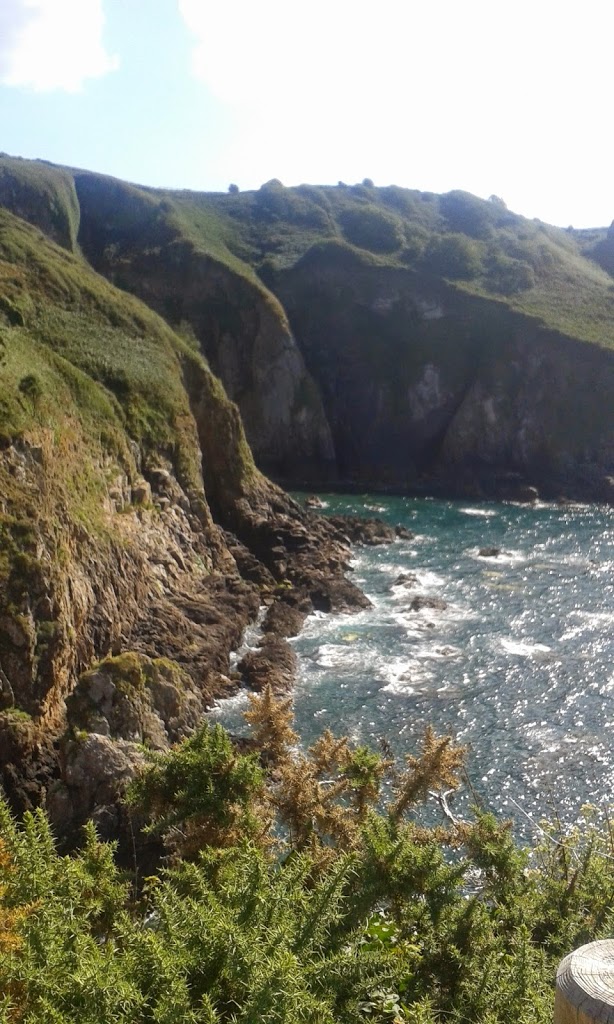 Gorey Harbour: Mont-Pride Castle
Go to corbière Lighthouse
To get to the feet of the Lighthouse you have to wait for the Low Tide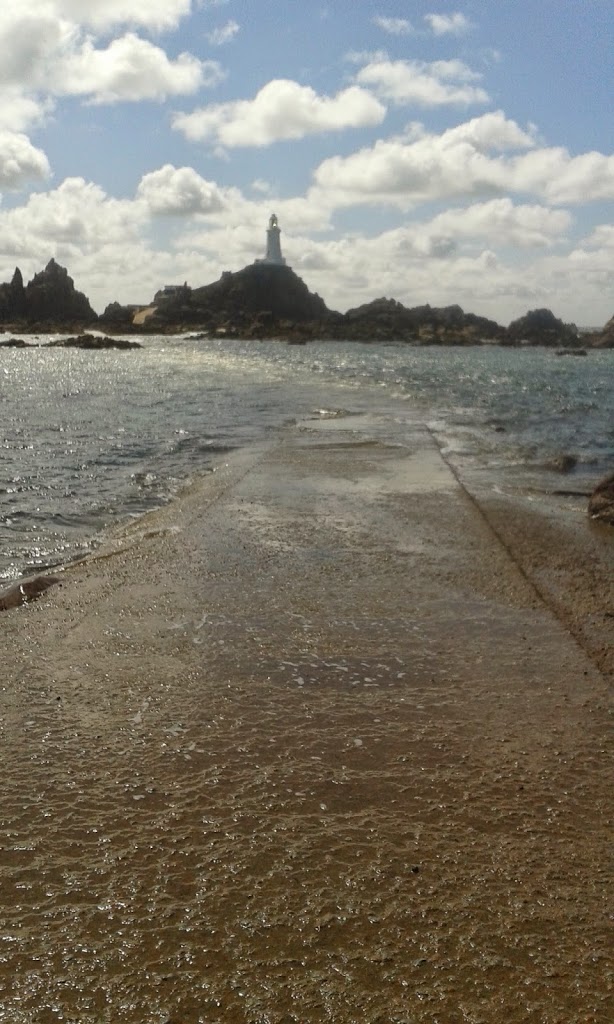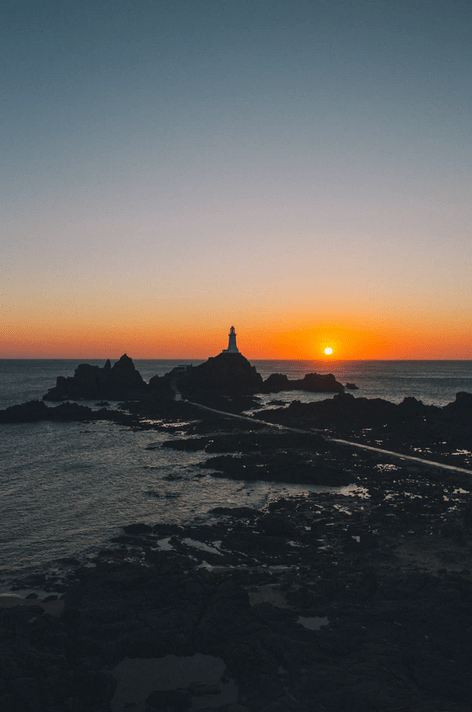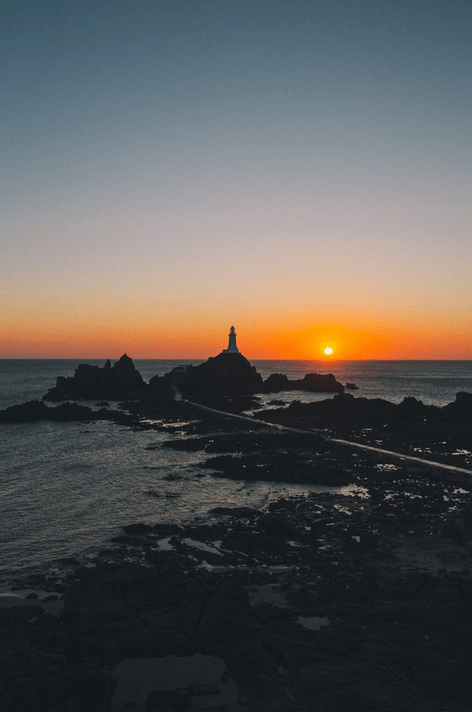 Take one of the buses that line the coast
This is a great way to visit the island if you are looking what to do in Jersey when it rains. A real pleasure! 
The one-day pass costs about £7.50.
To find out the timetables, the routes and the prices, visit the website: libertybus.je
Go to one of Jersey's wild beaches
The one in the photo below is superb, it's Plemont beach in the north of the island. 
Below are the other beaches to discover on the island of Jersey: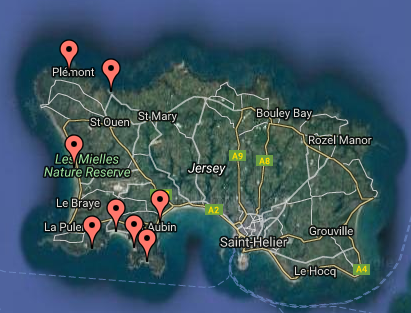 Visit Elizabeth Castle
You can do it:
– walking (at low tide)
– by seafarer at high tide
…. or do like me in the photo below and start walking and then get stuck halfway;-)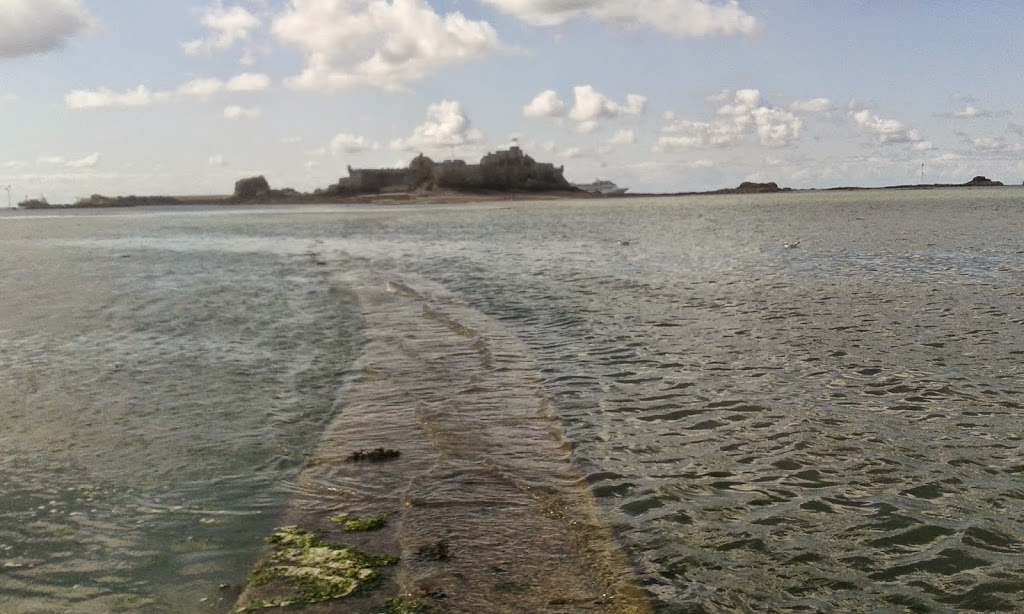 Visit Saint Helier
Saint Helier is the capital of the island of Jersey.
This British-style town has a nice city centre where you can:
Shopping in King Street

Tasting fish at the covered market

Visit the Jersey museum
Practical tips for visiting Jersey
Can we pay in Euros in Jersey?
I couldn't find any place in Jersey that accepted the Euros. I think Euros are rarely accepted. Once there, you can change your Euros to Pounds Sterling but be careful, be sure to change your Sterling Books before you leave because you will no longer be able to do so in France.
Weather Jersey
Think about bringing a good waterproof coat and warm sweaters (I couldn't swim but hey I'm a chilly Italian)
Jersey in one day, is it possible?
The driveway/return in the same day is possible, although a little short. If you really can't do better than that, I advise you to start the tour of the island through Elizabeth Castle and end the day with the city centre of St Helier. 
Guernsey and Sark
If you have time you can visit the islands of Guernsey and Sark, apparently they are very beautiful, I did not have time to visit them unfortunately
I hope this reading has been helpful to you.
Don't hesitate to react in the comments to give your opinion on the article and provide additional information to improve it.