What to do in Venice in 3 days? How to do responsible tourism in Venice? How to visit the secret and unknown Venice off the beaten track?

Venice is an Italian city located on a series of islands connected by canals and bridges. It is famous for its unique architectural buildings, such as St. Mark's Basilica and the Doge's Palace, as well as its gondolas sailing the canals. The city is also known for its theater and music festivals, such as the Biennial Festival of Contemporary Art.
And there is so much to see and do in Venice! 
From a simple stroll through the cobbled streets to tasting local cuisine in cafes and restaurants.
It is a must-see destination for all culture and history lovers. And unfortunately the city is at risk of disappearance (you can read the article: When Venice will disappear).
Visiting Venice is like a walk into another world, filled with culture, history and poetry. 
In this article I guide you in your visit of the Serenissima! 
Preamble: Responsible tourism in Venice
Venice faces several challenges to preserve its city and avoid its disappearance:
Limiting the number of tourists in the city can help preserve its architecture and environment.

Restoration and protection of the old architecture of the city, including wooden buildings, which are threatened by water

Tackling sea level rise

Raise awareness among tourists about environmentally friendly practices:


Use of sustainable modes of transport. For example, have you ever considered the idea of going to Venice.. By train? What, but she's crazy that one? No no, really 🙂

It's been 2 years that I use the train to get to my hometown in northern Italy from Paris. And it is a very pleasant experience, of reclaiming travel time

Avoid going to Venice during busy times, such as February during Carnival or July, August

Get off the beaten track, with alternative routes (we will see in this article)

Choose a hotel that is committed to a sustainable approach such as the Hotel Apostoli Garden  
The highlights in Venice
There are many things to see in Venice, here are some of the top attractions to visit in 3 days:
St. Mark's Square is one of the most famous squares in Venice, located in the heart of the city. It was the focal point of Venice's political and cultural life for centuries. It is surrounded by many important buildings, such as St. Mark's Basilica, the Campanile (bell tower), the Doge's Palace and the Teatro La Fenice. Often used for concerts, parties and festivals, it is a popular gathering place for tourists and locals alike. It is a must-see place for anyone visiting Venice.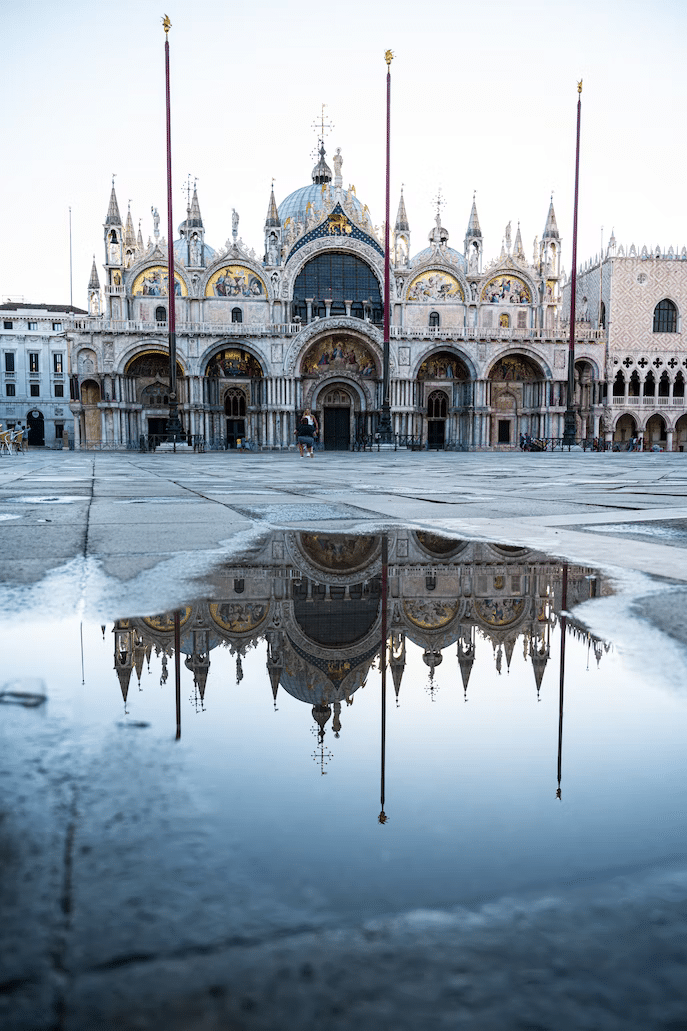 It is one of the most iconic buildings in the city, containing gold mosaics and works of art.
The former seat of government of the Republic of Venice, with paintings, frescoes and exceptional sculptures.
A covered wooden bridge that connects the Doge's Palace to the prison, famous for the sighs of the prisoners who passed there.
Walking or by vaporetto through the canals of Venice without a destination is one of the best ways to discover the city. This allows you to admire the historic buildings, bridges and gondolas, and to feel the peaceful atmosphere of the floating city.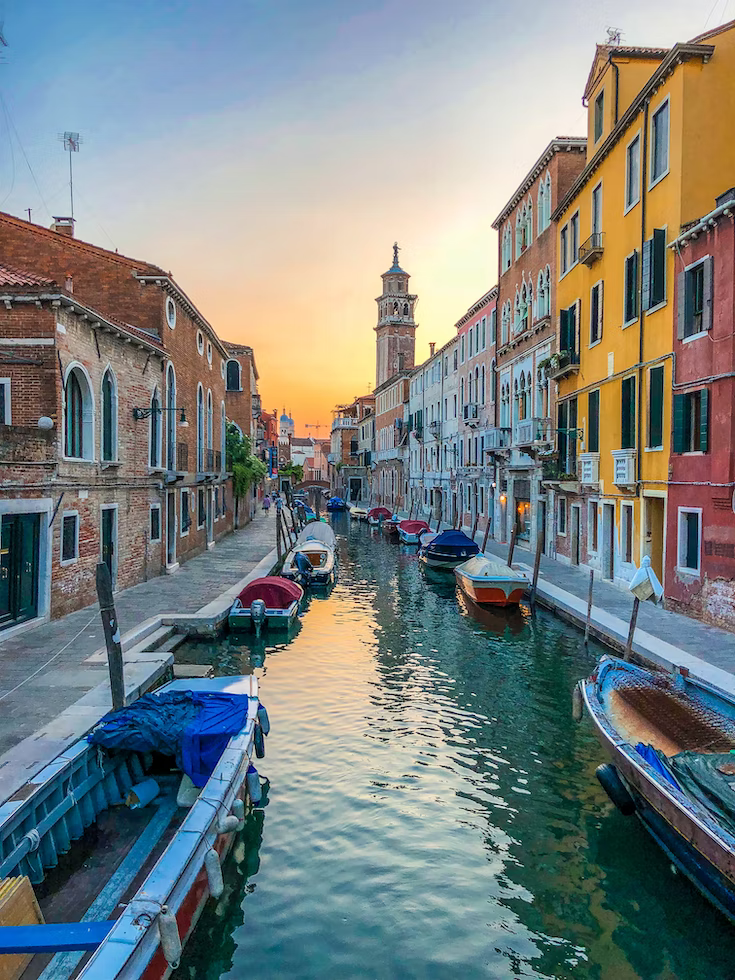 It is one of the oldest and most famous bridges in Venice, located over the Grand Canal.
The Gallerie dell'Accademia
It is an art museum that houses a collection of Venetian paintings, including works by Bellini, Tintoretto and Veronese.
The Scuola Grande di San Rocco

The Scuola Grande di San Rocco is a public institution founded in the fifteenth century. It is known for its interior architecture, which includes many paintings and frescoes by Tintoretto, as well as for its rich historical and artistic heritage. The Scuola Grande di San Rocco is considered one of the masterpieces of Venetian art and is a popular place to visit for art and history lovers.
Thinking outside the box in Venice
Explore the islands of the lagoon, such as Murano, Burano and Torcello, which offer a different and very authentic experience.
Stroll through the Cannaregio and Castello districts, to discover the daily life of the inhabitants of Venice

Visit Palazzo Fortuny and Museo Correr

Participate in local activities, such as wine and local food tasting


Stroll through gardens and parks, such as the Giardini Reali and Parco San Giuliano

Visit the Chiesa di Santa Maria degli Scalzi and the Chiesa di Santa Maria della Carità

Discover Palazzo Cavalli-Franchetti and the Campanile di San Giorgio Maggiore
I hope you enjoyed this article on What to do in Venice in 3 days
Do not hesitate to subscribe to my newsletter to have nuggets once a month in your mailbox.
You can also follow me on social networks 🙂